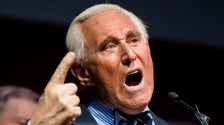 Republican political operative and staunch Donald Trump ally Roger Stone lashed out at newly launched documentary footage of him on Saturday as "faux."
In a clip from the upcoming documentary "A Storm Foretold" — launched Friday by Danish filmmaker Christoffer Guldbrandsen — Stone is seen ranting on a cell phone to somebody about his fury at not receiving a preemptive pardon from Trump for his actions associated to final 12 months's Jan. 6 rebellion.
However Stone insisted in a message Saturday on Telegram that the clip was "faux," apparently as a result of the telephone sometimes covers his mouth within the video.
Stone admitted, nevertheless, that he's actually "not a fan" of Kushner or the previous first daughter.
Stone, who appeared to offer full entry to Guldbrandsen and his movie crew for almost three years, has claimed earlier clips launched from the documentary had been "deep fakes." Guldbrandsen says the entire documentary footage is genuine.
Stone's mobile phone rant was lately subpoenaed by the Home Jan. 6 committee, however was not performed at its Thursday listening to. Within the clip, Stone rants to an unidentified particular person in Fort Lauderdale on Inauguration Day final 12 months when Trump not had the facility to pardon him.
Stone had already obtained one pardon from Trump. He was convicted in 2019 of seven felonies, together with obstruction of justice and witness tampering, in the course of the investigation into Kremlin interference within the 2016 presidential election. He was sentenced to 40 months in jail.
Trump praised Stone for not "flipping" and commuted his sentence earlier than it even started in the summertime of 2020. Trump then pardoned Stone shortly earlier than leaving the White Home.