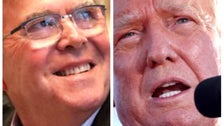 Former Florida Gov. Jeb Bush (R) mocked Donald Trump on Sunday after he claimed that Bush's father, the late President George H.W. Bush, saved thousands and thousands of paperwork in a dilapidated bowling alley with damaged home windows.
Trump, who's accused of illegally stashing categorized paperwork at his Mar-a-Lago property in Florida, claimed at a rally Sunday that the elder Bush "took thousands and thousands of paperwork to a former bowling alley and a former Chinese language restaurant the place they mixed them. So that they're in a bowling alley slash Chinese language restaurant."
"They put them collectively," Trump stated, per The Daily Beast. "And it had a damaged entrance door and damaged home windows. Aside from that, it was fairly safe."
Jeb Bush, one in all Trump's opponents for the 2016 Republican presidential nomination, responded in a really on-brand, nonplussed-dad kind of manner.
"I'm so confused," Bush wrote on Twitter ― including that his father, who died in 2018, "loved an excellent Chinese language meal and loved the problem of seven 10 cut up. What the heck is up with you?"
What is Trump speaking about? Within the Nineteen Nineties, the Nationwide Archives and Information Administration rented house at a former bowling alley and adjoining restaurant in Faculty Station, Texas, to curate previous paperwork for a deliberate Bush library at Texas A&M College, The Independent reports.
CNN's Daniel Dale hit Trump with a heavy fact-check, noting that the ability was safe and Bush didn't take the paperwork there himself ― NARA did.
That's a far cry from the categorized and even top-secret papers ― some relating to the nuclear capabilities of different international locations ― that the FBI says it discovered at Mar-a-Lago and that might lead to a prison indictment for Trump.
At Sunday's occasion, Trump additionally repeated his false declare that former President Barack Obama saved thousands and thousands of categorized paperwork in an previous furnishings retailer. Once more, all these paperwork had been not categorized ― they had been earmarked for attainable inclusion in a presidential library, and had been organized to be transferred by NARA, Newsweek noted.