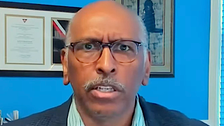 The previous chair of the Republican National Committee torched Florida Gov. Ron DeSantis Sunday over his extremely smug, allegedly God-endorsed marketing campaign advert as "ass-backwards blasphemy" that can irritate most spiritual individuals.
The black-and-white advert, first posted by DeSantis' spouse, Casey DeSantis, is narrated by a voice meant to evoke a patriarchal supreme being speaking about how God created DeSantis — a "fighter" and a "protector" — on the eighth day of creation.
That's "a few of the most ass-backwards blasphemy I've ever heard in my life, and one of many dumbest political adverts you might ever make," former RNC head Michael Steele, who attended divinity college and almost grew to become a priest, stated on MSNBC's "The Sunday Present."
But it surely "tells you what this white Christian nationalism is all about; that's what [the ad] appeals to. It doesn't attraction to churchgoing of us on Sunday, individuals who really learn the Bible," he added.
"On the eighth day? Actually? Church a lot? … God wants a protector? He may ask Moses to do this half, proper?" Steele continued. "What the hell are you speaking about? Oh, God wants somebody who's going to exit and problem the established order? You ever hear of a person named Jesus?"
"I don't want Ron DeSantis to be Christ. I simply want him to be governor, and that's the issue. These idiots mesh all of it collectively, and suppose they're one and the identical," he stated.